Organizator:

ADELE BROWN, SENIOR CONFERENCE ORGANISER Applied Market Information Ltd. 45-47 Stokes Croft, Bristol BS1 3QP, United Kingdom

Tel.:

+44 (0) 117 924 9442

Fax:

+44 (0) 117 311 1534

www:

e-mail:

ab@amiplastics.com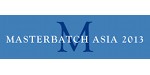 Masterbatch Asia 2013 will take place from 18-20th March 2013, at the Marina Bay Sands Hotel, Singapore.

The conference will once again provide an international forum for all companies involved in the Asian masterbatch business. Masterbatch Asia 2013 will offer participants the opportunity to learn of the new developments and future trends that will influence the Asian industry.

The conference programme will cover a number of sessions looking at raw materials, machinery, market trends and customer developments. The conference will also cover the latest trends in pigments, additives and equipment, focusing on the business opportunities these new developments will offer the masterbatch/concentrate producer.

A discussion of the way the processing industry is emerging in the region will also be a key focus for the event.